It is hard to think that the bookcase in the church hall was once a church pew.
Rather than dispose of the pew for fire wood or some other use, it has been transformed into a beautiful piece of furniture.
The pews were made of oak so now we have something that you would probably be unable to buy if you went in search of it.
Through the contacts with Palmers School, John Sach, a retired woodwork teacher, undertook the commission of turning the pew into a very successful bookcase. He has certainly done a wonderful job and is a very skilled craftsman and carpenter. The cross on each side of the bookcase has been gilded in real gold.
The books in the bookcase have been given to the Church by Denis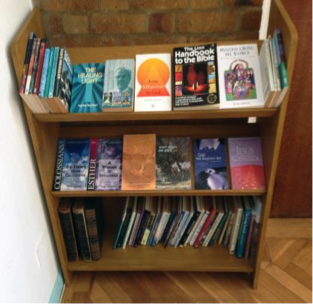 e Beckley in memory of her Mother, Mary Palmer. The books are there for all of us to borrow and use as appropriate and as an encouragement for us to read more about our faith.
A special thank you to John Sach for the hours of labour spent on producing such a lovely item and to Denise for filling it with good books.
We still have an original pew remaining in the choir stalls and on it is a dedication plaque that reads:-
"To the Glory of God
These choir stalls were presented in gracious memory of
Thomas Jones, Esq. J.P. (1871 – 1955)
He was a member of the choir for 65 years And choirmaster from 1913 – 1943″